Just Do It - Go Barefoot, that is...
Insoles, orthodics, $100 running shoes...
None of these can replace what naturally keeps your feet in tip-top shape. (It's less expensive and more accessible than you might think.) Join Leslie as he explores the art and science of going barefoot...
Want more free resources like this delivered to your inbox?
---
Images from the book Yoga Anatomy by Leslie Kaminoff & Amy Matthews
displayed on this website are used under license.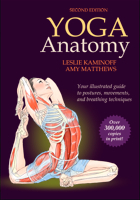 ---
Love learning with Leslie? Study with him personally online →
---