Bhujangasana
---
Cobra Pose
bhujanga = serpent
(bhuja also = arm or shoulder + anga = limb)
Breathing
Although the standard instruction is to inhale while entering into a back bend, it can be very helpful to enter into this basic back bend on an exhalation. For many people who are locked into a belly breathing pattern, their inhalation actually restricts thoracic extension and rib cage expansion (this is because a belly breath is accomplished by restricting rib movement while the diaphragm contracts).
Want more free resources like this delivered to your inbox?
---
Images from the book Yoga Anatomy by Leslie Kaminoff & Amy Matthews
displayed on this website are used under license.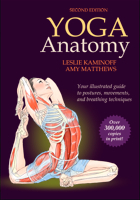 ---
Love learning with Leslie? Study with him personally online →
---